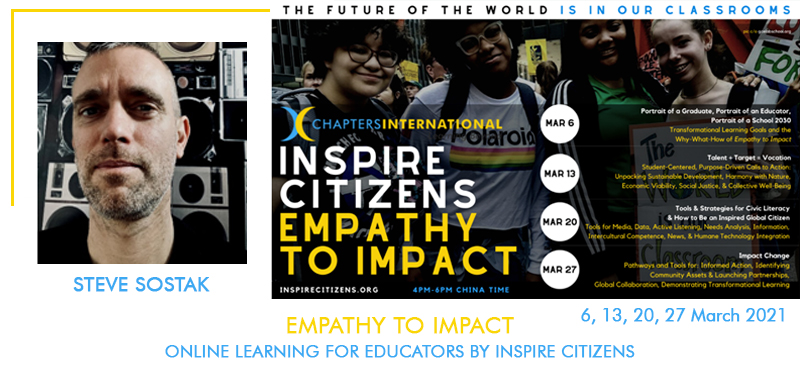 Overview:
Developed by Inspire Citizens co-founders, Steve Sostak and Aaron Moniz, the Empathy to Impact teaching approach and project-cycle addresses the global need for applied learning for active global citizenship, service as action, compassionate empathy, and sustainable development. While these civic-oriented outcomes are included in many school mission statements, great challenges exist in embedding them into curriculum and community engagement that can amplify pre-existing standards, criteria, and deep learning experiences.
The Empathy to Impact approach (Care, Aware, Able, Impact) empowers educators and students to reimagine units and projects through the lens of inquiry, deep learning, and global and intercultural competence: Personalized, transdisciplinary, and human-centered learning and action for a healthier, more equitable, and sustainable world.

Empathy to Impact is a foundational pedagogical element of the ten-pathway Inspire Citizens Global Impact School model and self-study.
WHY


Portrait of a Graduate, Portrait of an Educator, Portrait of a School 2030
In this two-hour workshop, educators will learn how to take the crucial, forward-thinking steps to identify, embed, amplify, and begin to assess future-focused transformational learning goals as the centerpiece of relevant education and healthy self, society, and planet.

Learning that demonstrates critical thinking, creative problem solving, global mindedness, self-directed learning, empathy, and balance will be unpacked through an exploration of the Why-What-How of EmpathytoImpact.
WHAT


Talent + Target = Vocation
In this second two-hour workshop, educators will engage with tools and strategies for embedding purpose-driven "calls to action" in pre-existing units or fresh ideas. Working with specific tools, metacognitive frameworks, and deep-thinking routines for complex systems, participants will walk away with a bank of fantastic resources to make sustainable development, harmony with nature, economic viability, social justice, and collective well-being integral elements of any future-focused classroom or school.
HOW


Tools & Strategies for Civic Literacy
In our third workshop, educators will experience a diverse set of strategies and tools for contemporary, relevant, civic literacy. Participants will practice and leave with applicable tools for the following genres of modern, civic literacy: Media, data, graphicacy, active listening, civil discourse, needs analysis, intercultural competence, information and news, and the integration of humane technology.
HOW


Impact Change
In our final two-hour workshop, educators will apply various pathways and strategies for taking informed action, making ethical decisions, identifying community assets, launching partnerships, collaborating globally, and demonstrating evidence of transformational learning that illuminates inspired global citizenship.
STEVE SOSTAK
Following 15 years teaching elementary and middle school in the US, Peru, Malaysia, and China, Steve now specializes in working with schools, teachers, and students to contextualize and integrate elements of the transformative Inspire Citizens' Global Impact School model and Empathy to Impact methodology into learning experiences. He guides educators towards seamlessly embedding compassionate empathy, deep thinking, and global and intercultural competencies into relevant, action-driven learning outcomes linked to disciplinary, technology, social-emotional-ethical and literacy objectives.

Steve facilitates best-practices in professional learning centered on holistic, personalized, capacity-building experiences and strategic planning for administrative teams and pre K-12 teachers. While working towards understanding cultural, educational, historical and geographic contexts of partner schools, he helps educators frame diverse community engagement, collective well-being, and sustainable development as the foundational whys of applied student learning.

As a Teach SDGs ambassador and co-founder of Inspire Citizens, he is committed to human and environmentally-centered learning that empowers school communities, teachers and students to connect learning to impactful change. He continues to work directly with students everywhere as a lead facilitator for the Inspire Citizens' Global Student Leadership and Global Youth Media programs.
DATES & TIMES:

Each Session is for 2 Hours.
6th, 13th, 20th, 27th March 2021
London 7:30 am | Zurich 8:30 am | Dubai 11:30 am | India 1:00 pm | Hong Kong 3:30 pm | Melbourne 6:30 pm

INVESTMENT
USD 350 Per Participant
USD 300 Per Participant for a Group of 3 or more
INCLUDES:

Certificate of Participation for 8 Professional Development Hours
Upcoming

Workshops
Global Youth Media
- By Steve Sostak, Luka Lesson & Christina Lin
10th, 17th, 24th April & 8th May 2021

Engaging Boy Writers
- By Ralph Fletcher
17th, 18th, 24th, 25th April 2021
Creating a Culture of thinking
- By Ron Ritchhart
13th, 15th, 20th and 22nd April 2021