Overview:
The inquiry process is a teaching practice that is used as a framework for teaching and learning with the students in our classrooms, but what happens when leaders use this philosophy to design, lead & inspire their teachers? As leaders, it's easy to get lost with our portfolios and our "duties as assigned" so consider this session as your launching point to truly determine where it is that your efforts and actions need to be focused, including the "who" and "how" we can get there as a collaborative school community.

During this two week virtual series Jessica Vance, author of Leading with a Lens of Inquiry, will help you explore the seven dispositions of an inquiry leader, identifying how these attributes empower all learners. Participants will be called to further consider the balance of our mindsets and moves as both inquiry and managerial leaders engaging in an inquiry process that compares systems and reflects on the cultures that we are trying to cultivate. We'll hone in on the "stones" we cast that, in turn, have the ripple effect we intend on those we serve. From skilful questioning and listening to designing campus professional learning, participants will leave with the essentials needed to further step into their roles as inquiry leaders. Leaders will engage in school vision work, goal setting and specific action steps moving forward including a tangible portfolio of resources. Are you ready to lead with a lens of inquiry?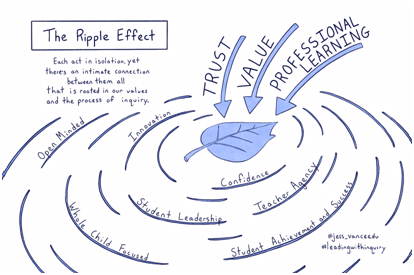 Some big questions we'll tackle:
What dispositions and mindsets are necessary for our roles as we lead with a lens of inquiry?
What are the ways we empower ourselves and our teachers towards a more reflective practice?
What are the small and big ways we nurture an environment of inquiry?
How can we honor the agency of "our learners" while moving our programmes and schools towards sustainable growth?
Potential Audience:
This workshop is designed for programme leaders, curriculum coordinators and instructional coaches who aim to deepen their practice as inquiry educators. We will look more closely at the ways that an inquiry mindset impacts and supports all learners.
Jessica Vance
With a professional teaching and leadership background in both the private and public international schools (IB PYP Educator & PYP Coordinator), Jessica brings a unique perspective to her role as Enrichment & Environment Coordinator at the school in Austin, Texas.

Her passion for student-centered learning, collaboration, and coaching stems from the students themselves, finding inspiration in their natural curiosity as they authentically engage in learning experiences inside and outside of the classroom. Jessica strongly believes in the power of leading with a lens of inquiry, facilitating innovative professional learning opportunities and coaching sessions that provide the space for educators to collaborate and reflect, while supporting their professional growth as inquiry practitioners.

Leading with a Lens of Inquiry is Vance's first publication. To find out more about Jessica or to connect with Jessica to learn about the supportive role she plays in school's across the globe, please visit www.leadingwithinquiry.com
DATES & TIMES:
13th & 20th April 2024

New York 7:00 am | London 12:00 pm | Zurich 1:00 pm | Dubai 3:00 pm | India 4:30 pm | Hong Kong 7:00 pm
Melbourne 10:00 pm

Please click here to check your time for the workshop

INVESTMENT
USD 300 Per Participant
INCLUDES:

Certificate of Participation for 10 Professional Development Hours.
Upcoming

Workshops
Translanguaging: An Asset-Based Approach for Schooling Multilingual Learners
- By Dr. Virginia Pauline Rojas
5th, 12th, 19th, 26th March 2024
Online Workshop: Redesigning Your Classroom Library to Scaffold Readers
and Writers
- By Clare Landrigan
5th, 12th, 19th, 26th March 2024
Curriculum Mapping For Modern Learning: Bundling Standards, Aligning
Assessments, And Engaging Students And Faculty
- By Dr. Heidi Hayes Jacobs
7th, 14th, 21st March 2024