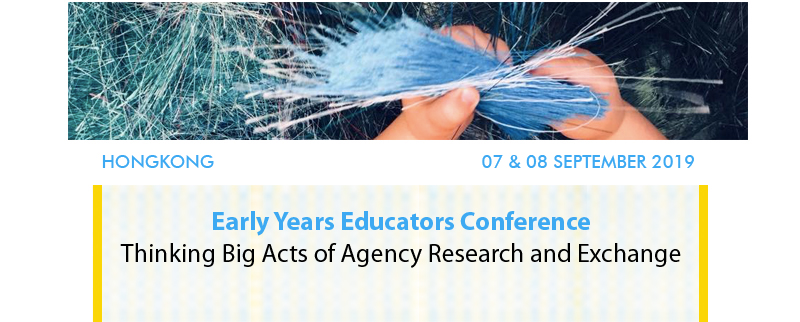 Learning is a process of constant communication and inclusive exchange. Embracing children and teachers as active agents and collaborative participants in the learning process requires a new conversation about children, childhood and education.

This conference offers the recognition of agency and participation as important concepts for international educators and schools to consider. It aims to stimulate a conversation that is founded on the fundamental rights of children. It will explore participation and agency as central forces that activate learning in the early years, explored through four different lenses. During the conference delegates will have the opportunity to hear all four keynote presentations and then select two 'deep dive' workshops where ideas will be exchanged and thinking stimulated about agency and participation through different lenses and perspectives.
"Learning is not the transmission of a defined body of knowledge, what Malaguzzi refers to as a 'small' pedagogy. It is constructive, the subject constructing her or his own knowledge - Butal Waysin

Democratic relationships with others and being open to different ways of seeing.

From this perspective, learning is a process of constructing, testing and reconstructing theories, constantly creating new knowledge. Teachers as well as children are constantly learning.

Learning itself is a subject for constant research, and as such, must be made visible."

Carla Rinaldi & Peter Moss. Children in Europe, 2004.
Thread 1: Participation & Playful Inquiry
The Power of Playful Inquiry
Matt Karlssen and Tara Papandrew
By Opal School
Know More
Thread 2: Participation & Agency
Young Children as Agentic Learners
Anne van Dam
Know More
Thread 3: Participation & Learning Environments
Encountering the Third Teacher: Exploring the Agency of Learning Environments
Fiona Zinn
Know More
Thread 4: Participation through Reading & Writing
Nurturing Young Readers and Writers
Matt Glover
Know More
Venue:
KOWLOON JUNIOR SCHOOL
20 Perth Street, Homantin,
Kowloon, Hong Kong

8:30 am to 4:00 pm
Registration at 8.00 am
on the 7th September 2019.
INVESTMENT
USD 720 Early Bird Offer 1st March 2019
USD 790 Closing Date 1st August 2019
INCLUDES:

Certificate of Participation for 16 Professional Development hours, Lunch and 2 coffee breaks.

Upcoming

Workshops
Learning, Memory, Questioning and Feedback
- By Dylan Wiliam
13th - 14th September 2019
Hong Kong
Inquiry Reading Instruction
- By Kathy Collins
28th - 29th September 2019
Bangkok
Creating a Culture of Thinking
- By Dr. Ron Ritchhart
5th - 6th October 2019
Seoul