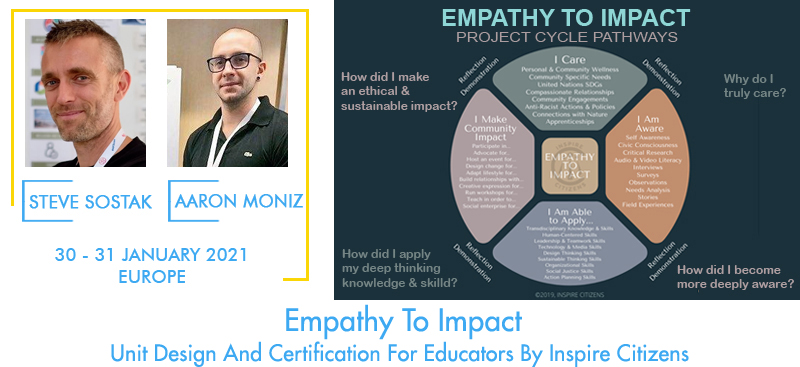 Overview:
Developed by Inspire Citizens co-founders, Steve Sostak and Aaron Moniz, the Empathy to Impact teaching approach and project-cycle addresses the global need for applied learning for active global citizenship, service as action, compassionate empathy, and sustainable development. While these civic-oriented outcomes are included in many school mission statements, great challenges exist in embedding them into curriculum and community engagement that can amplify pre-existing standards, criteria, and deep learning experiences.
The Empathy to Impact approach (Care, Aware, Able, Impact) empowers educators and students to reimagine units and projects through the lens of inquiry, deep learning, and global and intercultural competence: Personalized, transdisciplinary, and human-centered learning and action for a healthier, more equitable, and sustainable world.

Empathy to Impact is a foundational pedagogical element of the ten-pathway Inspire Citizens Global Impact School model and self-study.
GOALS
During the hands-on workshop, we will focus on concrete ways educators can embed global and intercultural competencies as well as a sustainable development toolkit into inquiry-driven and project-based learning opportunities. After examining the unique contexts of each classroom and school community, we will co-design innovative, enhanced, or reimagined unit plans through an Empathy to Impact approach.
| | |
| --- | --- |
| | Following the workshop, participants can opt to continue global and intercultural competency-based learning while participating in pioneering action research in order to receive the Inspire Citizens Empathy to Impact Educator Certification. This would include online modules, participation in an on-going professional learning community, lesson and unit planning mentoring by an Inspire Citizens' facilitator, and the creation of a student evidence portfolio resulting in the educator certification. |
POTENTIAL AUDIENCE
The interactive Empathy to Impact workshop is designed for any educator (pre K-12) that wishes for local and global community engagement and compassionate sustainable impact to be essential threads of student learning and a school's educational model.
STEVE SOSTAK
Following 15 years teaching elementary and middle school in the US, Peru, Malaysia, and China, Steve now specializes in working with schools, teachers, and students to contextualize and integrate elements of the transformative Inspire Citizens' Global Impact School model and Empathy to Impact methodology into learning experiences. He guides educators towards seamlessly embedding compassionate empathy, deep thinking, and global and intercultural competencies into relevant, action-driven learning outcomes linked to disciplinary, technology, social-emotional-ethical and literacy objectives.

Steve facilitates best-practices in professional learning centered on holistic, personalized, capacity-building experiences and strategic planning for administrative teams and pre K-12 teachers. While working towards understanding cultural, educational, historical and geographic contexts of partner schools, he helps educators frame diverse community engagement, collective well-being, and sustainable development as the foundational whys of applied student learning.

As a Teach SDGs ambassador and co-founder of Inspire Citizens, he is committed to human and environmentally-centered learning that empowers school communities, teachers and students to connect learning to impactful change. He continues to work directly with students everywhere as a lead facilitator for the Inspire Citizens' Global Student Leadership and Global Youth Media programs.
AARON MONIZ
Following 10 years of supporting teachers and students in inclusive education and success strategies for remedial readers and English Language Learners, Aaron brings this frame into his work with administrators, teachers, students, and community members within the three Inspire Citizens' Impact Frameworks for school-wide visioning and strategic planning, teacher professional learning, and student global leadership and collaboration. Aaron's experience at the innovative Futures Academy at the International School of Beijing also developed his expertise in Project-Based Learning, Inquiry, Design Thinking, and best practice pedagogies for implementing authentic and impactful action.

Now, as a Teach SDGs ambassador and the Co-founder of Inspire Citizens, Aaron works with schools to link the world's greatest needs to applied learning and holistic education and move teachers, programs, and schools towards designing impact projects through best practice professional learning and whole school implementation. By embedding tools for global competence, community well-being, and sustainable development into existing curriculum or school programs, Aaron helps any school to become a Global Impact School and strives to help any stakeholder realize that all schools have potential for positive impact in the world.
Venue:
Europe

9:00 am to 4:00 pm
Registration at 8:30 am
on the 30th January 2021

INVESTMENT
USD 690 per person for a group of 4, Closing Date 15th September 2020
USD 790 Closing Date 1st January 2021
INCLUDES:

Certificate of Participation for 16 Professional Development hours, Lunch and 2 coffee breaks.
Upcoming

Workshops
Teaching and Learning Through Inquiry
- By Kath Murdoch
6th - 7th February 2021
Bulgaria
Cultivating the Inquiry Mindset
- By Trevor MacKenzie
6th - 7th February 2021
Bulgaria
Learning Through Inquiry in the K-12 Science Classroom
- By Paul Andersen
6th - 7th March 2021
The Hague