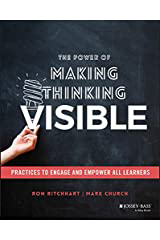 Through their best seller, Making Thinking Visible, Ron Ritchhart and Mark Church helped to popularize the use of thinking routines in classrooms, museums, and professional learning all around the world. As this popularization unfolded, Ron and Mark paid close attention to how educators were using making thinking visible practices, what effect they had on students and teachers, and how these practices began to transform classrooms. At the same time they were develop new routines for helping students to engage with ideas, with others, and in action. All of this learning culminated in their new book, The Power of Making Thinking Visible. Join Ron and Mark for chat about their new book and to share your experience of using visible thinking practices in your own classrooms. Where have you seen their power? What are you wondering about when it comes to visible thinking? We'll be collecting questions in advance through Twitter using the hashtag #PowerofMTVChat.
Ron Ritchhart :
Ron Ritchhart spent years in the classroom as a teacher before joining Harvard Project Zero where he is now a Senior Research Associate. Over the past 16 years, Ron's research has explored such issues as teaching for understanding, the development of intellectual character, creativity in teaching, and the development of thinking dispositions. He currently directs the worldwide Cultures of Thinking project aimed at supporting teachers in the creation of classrooms where thinking is valued, visible, and actively promoted. Ron's research and writings, particularly his theory of Intellectual Character and his framework for understanding group culture through the Cultural Forces, have informed the work of schools, school systems, and museums throughout the world.
Mark Church :
Mark Church works with schools throughout the world wishing to create cultures of thinking in their classrooms. He believes in the difference teachers can make for students when they strive to make thinking visible, valued, and actively promoted as part of the day-to-day experience of their learners. Mark encourages teachers to become students of their students, and more broadly, students of themselves and the choices they make to leverage the power of making thinking visible.

Mark is currently a consultant with Project Zero's Making Thinking Visible and Cultures of Thinking initiatives, drawing upon his own classroom teaching experience and from the perspectives he has gained working with educators throughout the world. Together with Ron Ritchhart, Mark is co-author of the book Making Thinking Visible: How to Promote Engagement, Understanding, and Independence for All Learners (Jossey-Bass, 2011) and The Power of Making Thinking Visible: Practices to Engage and Empower All Learners (Jossey-Bass, 2020).
WEBINAR DATE:
13th June 2020

TIME
London 5.00 am | Dubai 8.00 am | IST 9.30 am | Hong Kong 12.00 pm | Melbourne 2.00 pm
12th June PDT 9.00 pm | MDT 10.00 pm