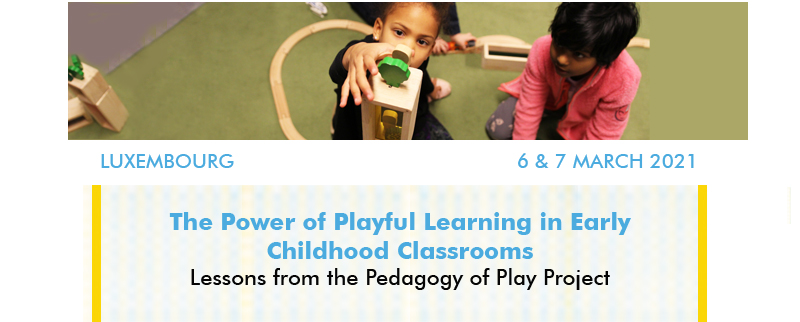 With the increased awareness about the importance of the early years has come some misguided notions of what preschool and kindergarten should involve. In some settings, play has been pushed to the sidelines as early childhood education has become more like school in the upper grades. Play is a natural way young children learn. How can we keep play as a central feature of early childhood classrooms and meet the learning goals we have for children?

The Pedagogy of Play (PoP) Project (http://www.pz.harvard.edu/projects/pedagogy-of-play) has developed a framework to help ensure that play is at the heart of young children's learning experiences in school. In this two-day conference, PoP researchers from Project Zero at the Harvard Graduate School of Education and the International School of Billund (Denmark) share the key principles of playful learning along with practices that promote classrooms and schools where learning through play thrives.

The conference will begin with a keynote describing the PoP framework, and exploring what playful learning can look and feel like in early childhood classrooms. Over the two days, participants will engage in four workshops to deepen their understanding of the PoP framework and identify ways to adapt PoP ideas for their settings. The workshops are:
Venue:
International School of Luxembourg
36 Boulevard Pierre Dupong,
L-1430 Luxembourg

8:30 am to 4:00 pm
Registration at 8.00 am
on the 6th March 2021.
INVESTMENT
USD 760 Early Bird Offer Till 15th September 2020
USD 790 Closing Date 1st February 2021
INCLUDES:

Certificate of Participation for 16 Professional Development hours, Lunch and 2 coffee breaks.

Upcoming

Workshops
Enhancing Learners Agency
- By Anne Van Dam
7th - 8th November 2020
Baar, Switzerland
Teaching and Learning Through Inquiry
- By Kath Murdoch
6th - 7th February 2021
Bulgaria
Cultivating the Inquiry Mindset
- By Trevor MacKenzie
6th - 7th February 2021
Bulgaria