The aim of this session is to design whole school systems for developing Global Citizenship.
About the Session:
In this workshop participants will explore how to design a whole school approach Global Citizenship Education. Participants will engage collaboratively around mission and vision protocols, establishing of common definitions and tools/approaches, will design a professional learning implementation plan, will explore community assets and community partnership models, and will develop timelines and set strategic goals. Participants will leave this workshop with ideas for how to enhance existing missions and visions around global citizenship, service, and sustainability, and will leave with an insights to a process for designing successful and sustainable whole-school approaches in their schools context.
The Learning Objectives:
To explore the key considerations of designing a whole school Global Citizenship program.
To engage with Inspire Citizens Global Citizenship Self-Discovery Tool.
To actively engage with participants to design an implementation approach that works for their school.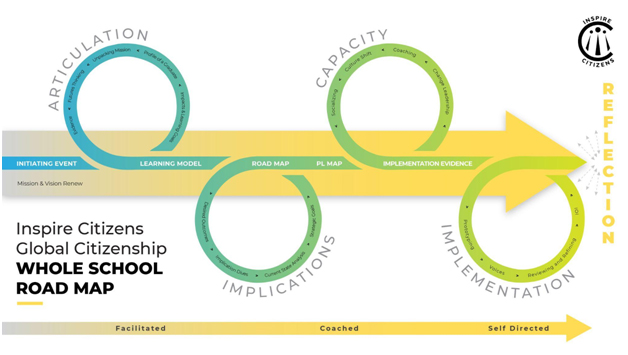 Inspire Citizens Global Citizenship Self-Discovery Tool
Aaron Moniz
Aaron Moniz is one of the Co-Founders and Co-Directors of Inspire Citizens. Aaron helps schools around the world to develop whole-school implementation programs for service learning and education for sustainable development as a means of developing global citizens. Aaron uses the Inspire Citizens' Global Impact Schools Self Study to conduct strategic visioning and goal setting to articulate best practice professional learning approaches and personalize them to the unique context of each school. Aaron also uses the Inspire Citizens Empathy to Impact Approach to enhance curriculum at any grade level or subject area, and he helps schools to design K-12 scope and sequences, scaffolding the development of service learning and active global citizenship. Alongside the Inspire Citizens team members, Aaron also helps to develop student leadership programs, and facilitates the Inspire Citizens Global Citizenship Certificate; an online professional development program for global educators. Aaron believes that schools can become centers for community impact and strives to help schools see the large-scale impact that they can have by slightly optimizing their existing systems and centering on sustainable change.
Venue:
American Embassy School New Delhi
Chandragupta Marg, Chanakyapuri,
New Delhi, Delhi 110021

9:00 am to 4:00 pm
Registration at 8:30 am
on the 11th of February 2023

INVESTMENT
12,500 INR + 18% GST
INCLUDES:

Certificate of Participation for 8 Professional Development hours, lunch, And coffee breaks.